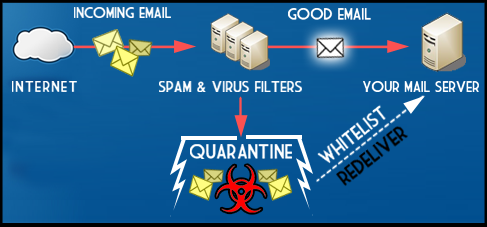 MailSift is an always-on, automatic spam filter and virus-removal processing service for your domains.
This is how it works: instead of email arriving in your server straight from the internet, it is directed to our MailSift servers. We utilize our advanced filtering servers and custom software to block known virii, reject known spam sources and quarantine suspicious or junk email. We then pass the good email on to your current Mail Server. In short, we cleanse it - then deliver it on to you.
The benefits of Mailsift include:
Protection: Most messages containing spam, viruses or spyware never reach your server or your users.


Accuracy: MailSift's software works in conjunction with our filtering servers to block 99% of spam.


No hardware to buy: No hardware to purchase or install.


Cost Effective: Less than a penny per day per Mailbox for most small domains. By reducing the amount of time spend readning and deleting spam from your inbox that "penny" is rapidly recouped


Easy Setup: No new software to install, no changes to your existing email client or server.


Compatiblity: Works on any operating system that has internet (SMTP) email capability and you can control your domain's MX record.


Disaster Recovery: A safety feature built into MailSift provides a short term archive of all email processed. In the event your Mail Server crashes and/or email is lost. You can recover email from the past few days (depends upon retention period). If your Mail Server is out of action, the function could be used to review pending email during the outage.


Easy Admin: Individual users have their own control panel to review their quarantine and adjust their settings/whitelist. Accounts can be setup simply by having the new user authenticate on their control panel or through the use of the AutoCreate tool which tracks server acceptance and creates accounts on the fly.


Speed: Only adds a few seconds to email delivery, and ultimately reduces the strain on your Mail Server caused by rogue spam server connections. Also increases your server's and local internet connection's overall bandwidth due to less spam and viral clutter read by your email client. Some customers report that the bandwidth consumed by their local MailServer went down by half, freeing up that capacity for faster web sessions and VOIP.


Reliability: Multiple filtering servers with multiple connections, backed up by the quality support of Pixelgate Networks.